I hope you all had a fabulous Easter!
We have a BIG announcement, so PLEASE READ!
This will be the last week for Saturday Dishes. We have loved the awesome parties, and we think the themes are really fun. However, the themes have also seemed limiting to some, and participation levels just aren't where we'd like them to be, so we've been brainstorming and trying to figure out how to create a better party for everyone, and I think we've come up with something wonderful- or you could say it's "Pretty Pintastic!"
If someone else is wanting to take over the Saturday Dishes party, we would love to pass it on to someone, as well as give some shout outs to the new host! If you are interested in taking it, please email us at coffeewithus3@gmail.com
Pretty Pintastic Party
Our new Pretty Pintastic Party will begin next Friday at 12:01 am (PST). The party will be open to all kinds of posts. The party won't have a lot of rules.
In fact, the new party has just one rule:
We ask that you pin the features each week, and we will provide a link to a pin, so it should be really easy!
That's it. Seems "Pretty Pintastic" to us, and we hope it does to you, too!
With Pinterest being a huge referrer for most bloggers, we thought that having everyone pin your post if you are featured would be a great way to drive traffic to your site.
We're also excited to announce that this new blog will be live on 4 permanent hosts' sites, as well as guest co-hosts each week. So if you're interested in being a guest co-host, fill out this form.
Back to this week's party
Most Viewed:
Basic Flour Tortilla Tutorial from Swirls and Spice
This recipe and tutorial from Swirls and Spice makes tortilla-making look so easy I might just have to give it a try! Except I'm afraid that then I'll never be able to go back to store-bought tortillas again! I bet homemade are so much better!
Some of my Favorites:
I can't believe the variety of awesome Mexican and Tex-Mex recipes that were linked up last weekend! I had such a hard time picking just a couple to feature, so I decided to do a Cinco de Mayo roundup.
Check out these awesome recipes- and more- at The Best Cinco de Mayo Recipes!
Now on to this week's party!
As you can see this week's theme is Cake Mix Recipes.
Share any recipe that is made using a cake mix

– we can't wait to see what you link up!


*For those of you pinning recipes, please click the link to go to the recipe and pin from there, not from this party.
Bloggers:
By linking up, you give coffeewithus3.com, recipesforourdailybread.com, or any co-host permission to feature your post on social media and our blogs using a photo, title, and link to your site. Proper credit and links will be given to you.
Grab one of our buttons!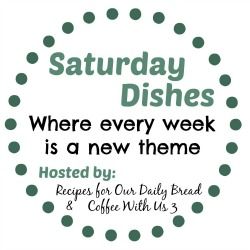 Help other bloggers find our party by Tweeting this Link!