FoodSaver Group Giveaway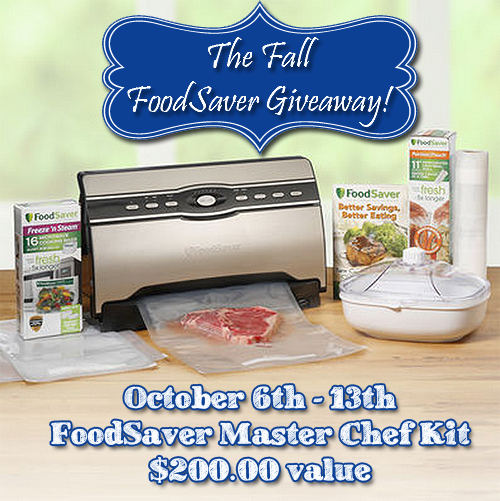 We are having a FoodSaver Group Giveaway today! WooHoo! This is a great way to preserve your food for an extended amount of time. You can make mason jar salads, package your cheese in smaller bags, the list is endless. We are all thinking about how to be prepared for the unexpected times in our lives. This FoodSaver will help you save money by not wasting any of your precious grocery dollars.
We're so excited to partner up with some amazing blogs to share this giveaway with you! I know that Kerry loves her FoodSaver Vacuum Sealing System
and uses it all the time. I'm hoping to get one, too, soon (too bad I can't enter to win!). I know that if you win this FoodSaver it will save you time and money– it's amazing how much produce, meat, and other groceries end up getting thrown away simply because we can't use them in time- but with a FoodSaver you can preserve those items to make them last so much longer!
This FoodSaver Giveaway is open to any resident who is 18 years of age or older who lives in one of the 48 US Contiguous States. This giveaway starts on Monday, Oct. 6th at 5:00 am (MDT) and ends on Monday, Oct. 13th at 5:00 pm (MDT). The winner will be notified by email and will have 24 hours to respond. If we do not hear back from said winner in the designated time period of 24 hours we will choose another winner and they will have 24 hours to respond from the time the notification email is sent. Please check your SPAM email folders. Good luck to everyone! Let's be prepared for the unexpected! *****Please note: We may have to exchange this exact FoodSaver with a comparable or more expensive FoodSaver should this item sell out or not be available when our giveaway ends. Thank you so much for your understanding. Good luck!
a Rafflecopter giveaway