I have a few blogs I read nearly every day.  One of those blogs is written by a woman (Mavis) who is an amazing gardener among many other things.  Last year, she grew 2,000 lbs of produce in her backyard. She blogs about many things including her gardening, spending only $100 a month on groceries, and recipes.  One of the recipes she has shared is Roasted Corn Salad with Tomatoes and Feta.  This salad is so fresh and yummy.  Every time I make it, I think why don't I make this more often.  It is so good.
Roasted Corn Salad with Tomatoes and Feta
4 ears of corn, shucked
4 slices cooked bacon, crumbled
2 Tbsp unsalted butter
2 Tbsp olive oil
1 garlic clove, minced
1/4 tsp dried thyme
6 green onions, green portion only, sliced
2 cups tomatoes, chopped
1 cup feta cheese crumbles
2 Tbsp finely chopped fresh basil
1 Tbsp lime juice
Salt & Pepper, to taste
Cut the kernels off the corn cobs. (You'll need about 3 1/2 cups corn kernels).  In a large nonstick pan, heat butter and olive oil on medium-high heat until nearly smoking.  Add the garlic and saute for 30 seconds.  Add corn and saute until just cooked (about 3 – 4 minutes). Add green onions and saute for another minute.  Add salt & pepper, dried thyme; remove from heat and place in a large bowl.  Allow corn to cool to room temperature.
I use kitchen scissors to cut up the bacon and cook the pieces in a skillet.  But you can cook & crumble if you like.
In another bowl, combine tomatoes, bacon, and feta cheese. Gently mix to combine.
When corn is cooled, add the tomato mixture to the corn.  Mix gently.  Serve at room temperature.
I made a double batch for these pictures. It is such a hit with my family that I have to make a double batch.
Adapted from One Hundred Dollars A Month
For a
Featured at: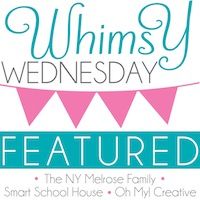 What I'm Eating @ Townsend House